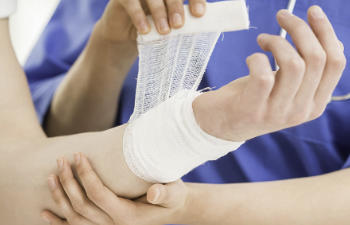 Winter weather in Georgia can change rapidly and make conditions hazardous. Even walking on rainy sidewalks can seem more treacherous during the cold winter months. While winter weather can be hazardous,  by following these tips, your risk of a slip and fall injury can be greatly reduced. Here are some tips to protect yourself from slips and falls this winter:
Take your time – when sidewalks are icy or wet, walk slowly. Wear appropriate footwear and tap your foot on areas that look slippery before you step on them.
Try to stay flat – avoid uneven ground as much as possible. If steps are wet, they could be icy, so try to avoid them as much as possible.
Limit your load – try to avoid carrying heavy objects as much as possible. Also, fight the urge to keep your hands in your pockets as you walk, as this could limit your ability to break your fall. If you must carry items, place them in a backpack where the weight can be evenly distributed.
Pay attention to signs – as you enter buildings, be on the lookout for wet floor signs. Even if no sign is present, always assume that the floor is slippery and walk carefully. Wipe your feet thoroughly on rugs, or remove as much snow or ice from your feet as possible if no rug is present.
Look ahead – keep your eyes focused on the ground about six feet in front of you. This will help identify hazards before you are close to them.
Report problems – if you notice a dangerous area on the sidewalk outside a building, report it to an employee. This could save someone else from injury as well.
Stay home – when in doubt, don't risk it. Order grocery delivery or wait until the weather clears to venture out. Remember, no shopping trip is worth your health and safety.
Legal Help with Personal Injuries
If you have suffered an injury due to the negligence of a place of business and want to discuss your options, schedule a consultation with Harman Law Firm today.
Posted on behalf of Harman Law Firm