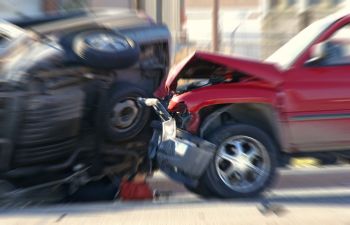 Even though thoughts of winter turn to cozy indoor activities, auto accidents rise during this season. Here are the most common causes of wintertime auto accidents, and ways to keep yourself safe on the roads.
Winter Auto Statistics
Wintertime driving leads to some pretty shocking accident statistics. According to the U.S. Department of Transportation, 24% of winter accidents are caused by snowy or icy pavement. Over 15% of these occur during active snowfall. Over 116,000 people are injured in wintertime auto accidents annually.  
Common Wintertime Auto Accident Causes
Poor weather conditions are the number one cause of auto accidents during the winter. Snow, sleet and freezing rain make roadways treacherous. Poor visibility, the failure of drivers to heed safe driving tactics and snow that covers road markers are all contributors to car wrecks. Some drivers have a false sense of security if they are driving large vehicles, leading them to drive recklessly. If you live in an area where snowfall is rare, this can cause drivers to panic, in turn, leading to accidents.
How to Protect Yourself on Winter Roads
The best way to avoid a wintertime car accident is to stay off the roads during inclement weather. If you have to drive during a snow or ice event, here are some tips that can keep you safe:
Keep your speed low. Traction is limited during ice and snow, so watch your speed.

Follow at a safe distance. Maintain more distance between the car in front of you.

Pull over. If road conditions or visibility worsens, pull over in a safe area and wait for conditions to improve, if possible.
If you are involved in an accident, follow these tips to stay safe.
Check for injuries. Pay attention to any pain you feel, or if you are cut or bleeding.

Call for help. Call 911 and listen to the operator for instructions. Only after this step should you call your insurer.

If the accident is minor and no one is injured, exchange information with the other driver.

Contact an attorney for assistance with your insurance claim.
If you are involved in an auto accident this winter, it is important to reach out to a lawyer for advice and help. Give Harman Law a call today to schedule a consultation.
Posted on behalf of Harman Law Firm