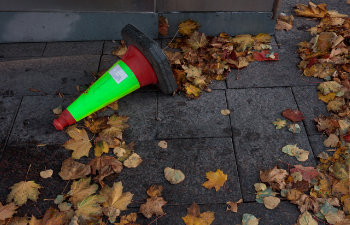 As the fall season approaches, many people in Northern Georgia look forward to visiting Fall-themed attractions such as pumpkin patches, haunted houses, hayrides and corn mazes. While these attractions can be fun and exciting, they can also pose a risk of personal injury if proper safety measures are not taken.
The Harman Law Firm in Atlanta and Augusta handles personal injury cases when innocent victims become injured at Fall attractions. These cases typically fall under Premises Liability law and the property or business owner can be held liable for your injuries. Let's explore some of the most common personal injuries that can occur in Fall-themed attractions and provide tips for staying safe.
1. Slip and Fall Injuries
One of the most common types of personal injuries in Fall-themed attractions is slip and fall injuries. These can occur when visitors slip or trip on wet leaves, uneven surfaces, debris on the ground or if they fall off a hay wagon. To prevent slip and fall injuries, it's important for Fall-themed attractions to keep their grounds clear of any hazards, take reasonable safety precautions and provide adequate lighting and signage.
2. Head and Neck Injuries
Another common type of personal injury in Fall-themed attractions is head and neck injuries. These can occur when visitors fall from heights, such as on a hayride or from a pumpkin patch platform. It's important for these attractions to have proper safety measures in place, such as providing helmets or harnesses for visitors to wear.
3. Cuts and Bruises
Visitors to Fall-themed attractions can also suffer cuts and bruises from sharp objects or rough surfaces. For example, visitors may cut themselves on corn stalks or sharp edges of pumpkin carvings. To prevent these types of injuries, Fall-themed attractions should make sure that all sharp objects are properly secured and that visitors are warned of any potential hazards.
4. Burns
Fall-themed attractions that involve fire, such as pumpkin carving or bonfires, can also pose a risk of burns. To prevent burns, visitors should be instructed on proper fire safety and should never be left unattended around open flames.
5. Allergic Reactions
Finally, fall-themed attractions that involve hay, straw or other plant materials can pose a risk of allergic reactions for visitors. To prevent this, attractions should provide warning signs and make sure that all visitors are aware of the potential risks.
Atlanta, GA, Premises Liability Lawsuits
Fall-themed attractions can be a fun and exciting way to celebrate the season, but it's important to be aware of the potential personal injuries that can occur. By taking proper safety measures and being aware of potential hazards, visitors can enjoy these attractions without compromising their health and safety.
When negligent property owners or managers do not employ appropriate safety measures, signage, equipment maintenance and other issues, and this negligence causes injuries, you may be able to recover damages in a Personal Injury / Premises Liability lawsuit. Contact The Harman Law Firm today and schedule a free consultation.
Posted on behalf of Harman Law Firm