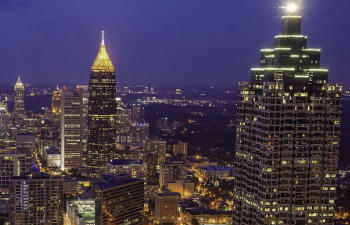 Regardless of the reason for your visit or how long you plan to stay, when you check into a hotel, you have the assumption and expectation that you will be kept safe as a guest of the property. In fact, hotels have the legal responsibility to do so. Unfortunately, accidents and injuries do happen at hotels, and in the case of the Downtown Atlanta Sheraton, major illness can occur as well. Just last month, the largest recorded outbreak of Legionnaires' disease in state history occurred at the Sheraton Hotel in Atlanta. Why? Lawyers claim hotel negligence.
What is Legionnaire's Disease?
Legionnaires' disease is a serious type of pneumonia, or lung infection, caused by Legionella bacteria. Symptoms include fever, chills, cough and shortness of breath. For certain individuals, the condition is deadly. According to the Centers for Disease Control and Prevention, those at increased risk include people who have compromised immune systems or chronic lung disease, are 50 or older or are current or former smokers.
Legionnaires' disease is passed through the air, or by breathing in tiny water droplets that contain the bacteria. Most outbreaks occur in hotels, hospitals and long-term care facilities. Such was the case for the Atlanta Sheraton hotel between June 22 and July 15, as more and more cases of Legionnaires' disease are still being reported from occupants of the hotel during that timeframe.
Recent Lawsuit Against Atlanta Sheraton Hotel
A fatality and dozens of sickened hotel guests have resulted from the recent Legionnaires' outbreak at the Atlanta Sheraton Hotel. This has led to the filing of a lawsuit that claim hotel negligence is the reason why so many individuals were unexpectedly harmed.
A recent USA Today article reported the details of the lawsuit, which alleges that "negligence in the operation and maintenance of the water systems caused a Legionnaires' disease outbreak." Legionella bacteria can be found naturally in fresh water. However, it becomes a threat when it grows and breeds in man-made water systems, including shower heads and faucets, hot water tanks, fountains or plumbing systems in large buildings, according to the Centers for Disease Control and Prevention.
The lawsuit blames the Sheraton Hotel for being negligent in failing to properly care for and test the hotel's water system. The Atlanta Sheraton Hotel manager, Ken Peduzzi, and the companies identified as owning, managing and maintaining the hotel are named in the lawsuit. Matt Wetherington, a current lawyer on the case, says "you do not get an outbreak of Legionella unless someone did something that was grossly negligent".
The Serious Risks of Hotel Negligence
Hotels are required by law to maintain their property in a reasonably safe condition and take all possible measures to ensure there are no hazards or potential threats to their guests. When they neglect to do so, serious injury, sickness or even death can result. Whether it is a slip and fall accident or a drowning at the hotel pool, the hotel may be held responsible if negligence is legally confirmed.
Common types of hotel negligence can include:
Failure to provide proper lighting
Failure to properly clean and maintain the property
Failure to display warning signs
Failure to provide proper security
Failure to provide adequate or properly trained personnel
Do You Need an Atlanta Personal Injury Lawyer?
As of August 7, the Georgia Department of Public Health reported 11 additional lab-confirmed cases of Legionnaires' disease and another 63 cases are classified as "probable." Health officials encourage anyone who stayed at the hotel or visited between June 12 and July 15 to help with the investigation.
If you suspect that yourself or a loved one has been affected by the Atlanta Sheraton Hotel Legionnaires' Disease outbreak, please call Harman Law. We have a highly skilled personal injury lawyer who is familiar with all types of hotel negligence claims and how to help clients achieve fair compensation. Call today to learn what you may be entitled to.
Posted on behalf of Harman Law Firm