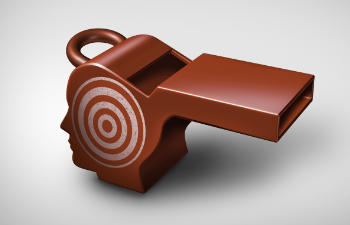 We have all heard the term "whistleblower" on the news, but you may not understand just what is involved. Here are some facts about whistleblowing and how it can affect you.
The term whistleblower originates from the whistle a referee uses to signal an infraction in a game. Credit for the term is granted to Ralph Nader in the early 1970s to take the negative connotation away from those who report against wrongdoing. Whistleblowers can be anyone in the private or public sector who have firsthand knowledge of company or government misdeeds.
False Claims Act Whistleblower
The False Claims Act of 1863, also called Lincoln's Law, is a federal law that allows individuals to report instances of companies or individuals who are defrauding the government. Under this law, the whistleblower is guaranteed protection if they choose to come forward to report cases of fraud or other illegal activities.
Common Fraud Types
Some of the most common types of fraud are:
Off-label marketing of drugs for usage not regulated by the FDA
Bribes or kickbacks in business dealings
Sale of poor-quality medications
Billing for services not performed
Delivering defective or damaged goods paid for by federal dollars
Collusion in government contracts
Who Qualifies?
In order to qualify for protection under the False Claims Act, the whistleblower must have firsthand knowledge of the fraud, and has to be able to provide evidence of the action. Emails and other documentation are excellent examples of evidence. The evidence presented must adequately establish who is involved in the fraud. The information provided by the whistleblower must be unique and must not have been previously released to the public.
I am a Whistleblower. Do I need an attorney?
If you have information that your company is taking part in fraudulent practices and you have evidence to prove your complaint, it is always wise to seek legal counsel. Often, whistleblowers are threatened with job loss, but an experienced attorney can prevent this or other punitive actions. The whistleblower may be even be entitled to a reward. An attorney will understand the legal process and can assist in filing the proper documentation and guiding you through the process.
If you believe you are in a situation where you need to expose fraud in your company, contact Harman Law Firm today. Our attorneys can help you understand the law and seek relief for you.
Posted on behalf of Harman Law Firm