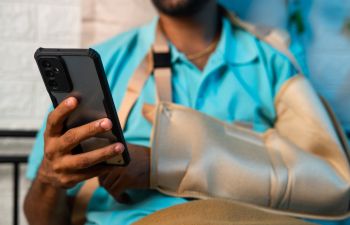 After a car accident or workplace injury, you may want to alert friends and family through social media to bring awareness to your situation and well-being. What you post can be used against you by insurance companies when you are seeking legal compensation. Here are three ways to handle your social media use so you will not affect your personal injury claim.
Make Your Accounts Private
One of the best ways to protect yourself in a personal injury claim is to set all your social media accounts to private. Anything you post may not be completely private, but adjusting your privacy settings can help to a point. While your legal case is going, you may want to ensure only your friends or yourself can see what you post. This will make it harder for insurance companies to find your profiles and scour for evidence to use against you. When changing your settings, make sure to turn off your location settings as well.
Limit Venting in Direct Messages
You may think that sharing vital information through direct messages is safe from the prying eyes of insurance companies. Depending on the situation, the court can order the login information of individuals you know during your personal injury claim. Limit venting or sharing photos by direct messages to protect yourself.
Be Wary of New Friend Requests
Be wary of accepting new friend requests on your social media accounts while dealing with your personal injury claim. These attempts could be from the insurance company or legal representation to access information about you. A private investigator can create a fake account pretending to be someone you know. Even if you reject the request, be careful with any comments you make to anyone you believe you may know.
Aggressive Legal Representation for Personal Injury Claims
Social media use can be damaging to your personal injury claim. If possible, stay off social media completely until your case is over. You may want to consult with an experienced personal injury attorney for recommendations on how to use social media while seeking compensation. Harman Law Firm specializes in aggressive legal representation for individuals suffering from personal injuries in Atlanta, Georgia. Call to schedule a free initial consultation appointment today.
Posted on behalf of Harman Law Firm