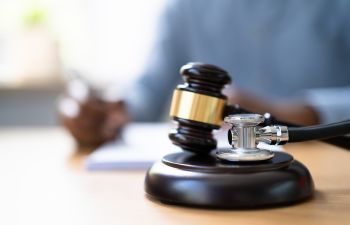 Medical malpractice is when a healthcare provider (such as a hospital, clinic, doctor or nurse) negligently injures a patient. For example, errors with prescription medications, inadequate treatment, surgical mistakes or medical equipment defects may fall under this category.
The following four types of medical malpractice claims are among those that our legal team at Harman Law can take on:
Medical Misdiagnosis

Misdiagnosis is a prevalent type of medical error in malpractice claims. A misdiagnosis happens when a doctor fails to identify a patient's condition, labels the patient with the incorrect illness or says they are healthy when they are not.
A misdiagnosis can become medical malpractice when a patient's condition worsens due to not receiving the appropriate treatment for their actual ailment. It is also malpractice if the patient is injured by inappropriate treatment for an illness the patient does not have.

Birth Injuries

Many individuals count witnessing the birth of a child as one of life's greatest joys. However, when labor and delivery personnel are careless and cause birth injuries, the event and its aftermath can be exceptionally traumatic. Parents-to-be can plan for many things related to the birth of a child, but they cannot prepare for a birth injury caused by a doctor's mistake.
The following are some examples of malpractice that leads to birth injuries:

Inadequate prenatal care
Failing to detect serious complications
Misusing assistive equipment and causing brachial plexus damage or cerebral palsy
Performing a C-section when it was not necessary
Failure to perform an emergency C-section
Failure to monitor the mother and baby during labor
Anesthesia mistakes

Birth injuries can also cause a baby to need lifetime care, which can cost millions. In some cases, birth injuries can result in the death of the mother or the newborn.

Wernicke Encephalopathy Claims

A B1 deficiency can lead to Korsakoff syndrome and Wernicke encephalopathy. These conditions can result in brain damage and even death, but they are preventable with proper medical attention. Unfortunately, some Wernicke-Korsakoff syndrome patients have received subpar health care and are victims of medical malpractice from professionals who could have identified and treated their condition.

Nursing Home Abuse

A person should be able to receive high-quality care if they are placed in an assisted living facility or nursing home. But unfortunately, it is a daily occurrence for these defenseless members of our society to experience abuse and neglect.
Although the terms are frequently used interchangeably, abuse is more violent than neglect and involves acts like kicking, hitting, verbal humiliation, spitting, frightening or degrading someone. Neglect is more accurately described as a lack of proper attention. It includes more passive issues like failing to regularly check on a patient, bathe them, administer medication, treat bedsores or provide a patient with adequate water and nutrition.
Do You Need a Malpractice Lawyer?
Contact our team at Harman Law Firm today for a free consultation if you have sustained injuries while under the care of medical professionals due to any of the above situations.
Posted on behalf of Harman Law Firm