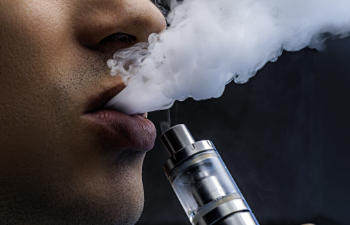 In the 1990's legislation restricted the advertising and sale of cigarettes and tobacco products, preventing "big tobacco" from marketing their product to minors. But forget about tobacco. The introduction of the e-cigarette in 2003 was supposed to give smokers a way to reduce their tobacco and nicotine consumption.
Since they were unregulated by the tobacco company agreements, it opened the door for advertising to a largely untapped market: kids.
Today, e-cigarette use among the adolescent population exceeds traditional tobacco use. In fact, there is increasing evidence that people who start vaping at a young age switch to cigarettes, making the original goal of vaping suspect.
What's in Your Vapor?
Though some companies' formulas for the vaping e-liquid have limited quantities of nicotine, products by the company Juul contain up to 5% of the addictive substance. In effect, vaping one Juul gives the user the same amount of nicotine as smoking a whole pack of cigarettes. There are increasing reports of seizure, stroke, and cardiovascular problems along with the reports of lung diseases like popcorn lung.
For a substance that is so dangerous to the developing brain and body, it seems incredibly irresponsible and even craven for it to be marketed to teenagers, who do not have the maturity to understand or care about the long-term effects to their bodies.
Legal Steps to Justice
If you or your child has experienced any of the negative effects associated with vaping, you may need legal assistance. Matt Harman wants to talk to you about the options you have for recourse under the state and federal laws. Contact the Harman Law Firm of Atlanta to find out more information.
Posted on behalf of Harman Law Firm